Highlights: Introducing InformixHQ!
Welcome to the International Informix Users Group (IIUG) Insider! Designed for IIUG members and Informix user group leaders, this publication contains timely and relevant information for the IBM Informix community.
Contents:
1) Editorial
2) Highlights
2.1 Introducing InformixHQ!
3) Conference Corner
3.1 IIUG WORLD 2018 – REGISTRATION IS NOW OPEN!
4) RFE Corner
5) Informix Resources
5.1 Informix Blogs and Wikis
5.2 Social Media
5.3 Forums, Groups, Videos, and Magazines
Editorial
Informix is on the move. Things are happening everywhere at a pace we haven't seen in years.
HCL is doing great in all aspects. I do not know what to highlight.
Informix 12.1 xC11 is on its way.
Updated documentation can be found on the HCL site. http://informix.hcldoc.com
Informix is on the Amazon Web Services (AWS) https://www.hcltech.com/products-and-platforms/informix/informix-AWS
Chat with the Lab is back
And a new modernized monitoring, alerting, and administration for Informix – InformixHQ is now available.
I'm sure there is much more to come.
Stay Tuned.
Gary Ben-Israel
IIUG Insider Editor
IIUG Board of Directors
gary@iiug.org
2) Highlights
2.1 Introducing InformixHQ!
Modernized monitoring, alerting, and administration for Informix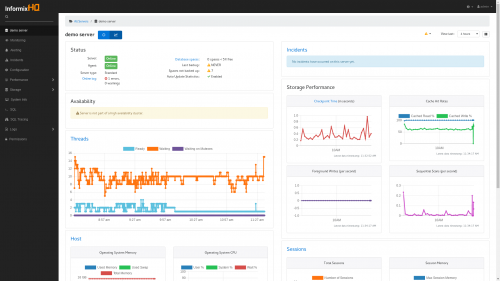 InformixHQ is a modern web console for visualizing, monitoring, and managing your Informix server instances. It is purpose built for ease-of-use, scaling out, and optimizing DevOps needs. It provides critical performance management capabilities, monitoring how key performance metrics are changing over time and tracking how efficiently Informix is running your workload even when you've stepped away from your screen. Its monitoring system feeds directly into a customizable alerting system so you can be immediately alerted via email, Twilio, or PagerDuty whenever an issue occurs on one of your Informix database server instances. InformixHQ is designed to be scalable to efficiently manage and monitor as many Informix database server instances as you need. Moreover, it's a tool that can be shared by the DBAs, the app developers, the ops engineers, and management and accessed from any desktop, laptop, or mobile device. InformixHQ is the path forward for graphical monitoring, alerting, and administration of your Informix database servers.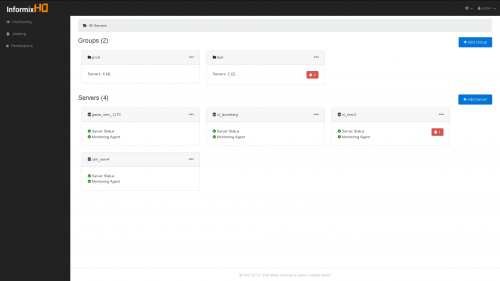 Written from the ground up, InformixHQ is intended to give you a new and improved monitoring and administration experience for Informix. The tool consists of three components. A new and modernized web based UI for monitoring, managing, and visualizing your Informix database server instances. A Java based server component that manages groups of servers, manages the monitoring and alerting systems, and that connects directly to database server instances for the gathering of live data and to perform administration tasks as requested by the user in the UI. Finally, a lightweight Java agent sits alongside your Informix database server instances to gather database server and operating system statistics to keep an eye on your server even when you have stepped away.
The initial release of InformixHQ version 0.1.0 is now here. Download it for free and try it out today!
Find out more about the product at https://informix.github.io/informixhq-server/
Download the product binaries from Maven Central at https://mvnrepository.com/artifact/com.informix
Watch demo videos on YouTube at https://www.youtube.com/watch?v=ASUI4SaUotE&list=PLlaN99O-uazQx0iCJo6CKZrAYV7KpJyHl
For product support, raise issues against our InformixHQ server (https://github.com/informix/informixhq-agent/issues) or agent (https://github.com/informix/informixhq-agent/issues) projects in GitHub.
Watch for the next CHAT WITH THE INFORMIX LAB on InformixHQ by Erika towards the end of May. An email will be sent, in the next week or so, with the announcement for this chat and details on how to register.
Erika Kuenhausen
3) Conference Corner
3.1 IIUG WORLD 2018 – REGISTRATION IS NOW OPEN!


IIUG World 2018 will be hosted by the Renaissance Arlington Capital View Hotel, Washington D.C. and will be held October 28th – November 1st, 2018.
This is a beautiful hotel and convenient to Reagan National Airport. It is also convenient to many historical sites, museums and other local attractions Washington D.C. is noted for. To learn more about this venue check out www.marriott.com/waspy.
We have already opened the call for speakers for IIUG 2018 speaker submissions and now REGISTRATION IS OPEN.
We are always looking for new speakers who might have a passion for Informix and/or related software to share their knowledge and are glad that we have tried and true speakers who return every year with more interesting happenings with Informix. There is still plenty of time to submit you topic, so, start thinking of some topics you are interested in sharing with our IIUG attendees and help us make this event the best ever. Submit your proposal today: /iiugworld/2018/speakers.
IIUG World 2018 registration is now open! We do everything we can to keep the cost reasonable for you every year and this year is no exception.
Register by July 15th and save $275.
Early Bird – through July 15, 2018 $1075.00
Regular – through September 15, 2018 $1350.00
Late Registration – through October 22, 2018 $1450.00
Don't forget to take advantage of your Membership perk and save an additional $100 off the registration price. Register at https://www.iiug.org/conf/2018/iiug/register.php.
Information regarding the current IIUG event, 2018, will be found at www.iiug.org/iiugworld. This includes everything you will need to know about IIUG 2018. You will be able to submit a presentation topic and register for IIUG 2018 as well and eventually keep up with the approved sessions for this year. This site is updated as new information is ready for release.
Hope to see you there.
IIUG World 2018 Planning Committee
4) RFE Corner
IBM created a public website to collect the requests for new features directly from users. The RFE (Requests For Enhancements) website is included in developerWorks. You can access it here.
Once you logged in with your usual IBM ID, choose "Information Management" in the Brand dropdown box and "Informix Servers" or "Client Products" in the Products dropdown box.
The idea of the RFE corner is to provide a digest on new Informix RFEs and make those RFEs more visible and accessible to the community, so you can vote on those that are also important to you. By actively participating in this website, IBM will have solid and useful elements from the customer base to introduce new functionality to Informix product.
Also in the area of IBM website, a new functionality has been released: MyNotifications. You will want to register this webpage in order to receive the notifications of your choice (new product defects, new patch release, new versions etc…, on the frequency of your choice (daily, weekly). I have registered and will definitely remain registered, due to the value of the information delivered.
Check at this place.
TOP 15 RFE's
| | | | |
| --- | --- | --- | --- |
| Abstract | Status | Votes | Progr. |
| In-Place Alter for varchar, lvarchar and boolean | Under Consideration | 59 | 0 |
| Backup from RSS or HDR Secondaries using ontape, onunload, onbar, dbexport | Under Consideration | 59 | 0 |
| SQL interface to obtain the temporary space usage (tables, hash, sorts…) | Under Consideration | 50 | 0 |
| Obtain the query plan of a running query | Under Consideration | 49 | 0 |
| Request to track and save a time stamp for last time an index was used. Nee… | Delivered | 40 | 0 |
| Backup Individual database, not entire instance | Submitted | 35 | 0 |
| ALTER owner of database objects after creation | Submitted | 29 | 0 |
| Implement CREATE OR REPLACE option for stored procedures | Under Consideration | 28 | +1 |
| Informix should be able to change owner on tables and any other objects | Submitted | 28 | +3 |
| New feature to have FORCE_DDL_EXEC functionality for all DDL changes | Submitted | 24 | 0 |
| Implementation of regular expressions (adding to LIKE/MATCHES functions) | Under consideration | 23 | 0 |
| Ability to re-create views and procedures without dependent objects being dropped (34762 | Under consideration | 20 | 0 |
| Need an onmode option to terminate orphaned, tightly coupled global transac… | | 19 | 0 |
| Allow triggers install/updates without taking an outage for the box (57792) | Under Consideration | 18 | 0 |
| SQL interface to obtain the temporary space usage (tables, hash, sorts…) | Declined | 19 | 0 |
You can access each RFE by clicking on the above links. At the bottom of each RFE page you will find a hyperlink to vote for it. You will see the Request stats, including number of votes for this request, on the right side of the request page. The more votes, the greater the chance an enhancement will be addressed by the Development Team.
Gary Ben-Israel
5) Informix Resources
IBM Informix home page
www.informix.com or directly at: http://www-01.ibm.com/software/data/informix/
5.1 Informix Blogs and Wikis
Blogs and Wikis that have been updated during the last month
More Blogs and Wikis
5.2 Social Media
Linkedin: https://www.linkedin.com/groups/25049
Twitter : https://twitter.com/iiug
Facebook : https://www.facebook.com/IIUG.Informix
Informix IoT Channel : https://ibm.biz/BdH2nm
5.3 Forums, Groups, Videos, and Magazines
The IIUG forums at /forums/technical.php
Informix Marketing channel on YouTube http://www.youtube.com/user/informixmarketing?feature=results_main
IBM DATABASE MAGAZINE at http://www.ibmdatabasemag.com
Credentials, the IBM Certification Newsletter at http://www-03.ibm.com/certify/email/201307credentials.shtml
The Informix Zone at http://www.informix-zone.com
There is now an Informix group on LinkedIn. The group is called "Informix Supporter", so anyone loving Informix can join, from current IBM employees, former Informix employees, to users. It will also be a good occasion to get in touch with others or long-time-no-seen friends. If you fancy showing the Informix logo on your profile, join. To join, simply go to: http://www.linkedin.com/e/gis/25049/5E4B2048E558
Closing and Credits
The International Informix Users Group (IIUG) is an organization designed to enhance communications between its worldwide user community and IBM. The IIUG's membership database now exceeds 25,000 entries and enjoys the support and commitment of IBM's Information Management division. Key programs include local user groups and special interest groups, which we promote and assist from launch through growth.
Sources: IIUG Board of Directors
IBM Corp.
Editor: Gary Ben-Israel
For comments, please send an email to gary@iiug.org