IIUG Board of Directors – 2019
The operation of the International Informix Users Group (IIUG) is managed and directed by a President and Board of Directors. The current members of the IIUG Board of Directors are:
---
Gary Ben-Israel has been working with Informix products since 1993 as a database administrator, database designer, application architect and application developer. Over the past 14 years, Gary has used 4GL, C and Java. Gary has been working with Informix Online 5, IDS 7, 9 and 10 and is on the closed Beta program for IDS 11. As a board member he served as editor of the IIUG Insider, took part in conference planning committees and is now in charge of the IIUG membership.
IIUG Insider Profile – 01 April 2004
Gary is an IBM Information Champion since 2010.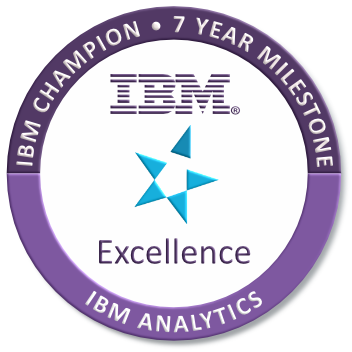 ---
David  started using Informix while in college. He has used Informix throughout his 34-year IT career. He has been a data entry person, a report writer, application developer, a DBA, manager of DBA's, and is now  Senior Systems Engineer. With all these roles he has seen how Informix can be used, needs to be supported, and can be grown.   David has been  involved in the Informix user space as a user conference attendee since 1996. For the past 10 years he has served on the IIUG Conference Planning Committee.
---
Rhonda has been working with Informix products for 30 years, beginning with Informix-SE. In her current position as Research and Development Manager for the Pennsylvania Continuing Legal Education Board, she was instrumental in influencing her organization to continuing supporting Informix for their programming goals after the IBM acquisition. This commitment is extended to current and future clients supported by her organization.
Rhonda continues to support the IIUG Board and Informix as a member of the IIUG Conference Planning Committee and has been involved since 2010. She is the current VP for the Washington Area Informix Users Group (WAIUG). Rhonda was a member of the IIUG Board during 2013-2015. She is IBM Certified and has been an IBM Champion since 2013, an honor awarded to IT professionals who are leaders and supporters of IBM software and solutions.
Rhonda is employed by a very small organization and wants to represent the needs and concerns of other small organizations as part of her mission as an IIUG board member. She will be honored to be re-elected as a member of the IIUG Board and will apply her enthusiasm and commitment to represent the entire Informix community ensuring Informix remains a viable product of the IBM portfolio.
---
Art Kagel has been working with Informix database and development products almost since the beginning. He is a frequent contributor to the IIUG Forums and the CDI Usenet group and a popular presenter at conferences. Art is founder and President of ASK Database Management working as a Principle Consultant providing services to IBM Informix users around the world. He is also a former winner of the IIUG Directors Award for his outstanding contributions to the Informix Community and an eight time IBM Champion for Information Management.
---
Cindy Lichtenauer has been working with Informix products since 1989. Twelve of those years were spent at the Informix Lenexa Kansas office, as a Systems Engineer. 
Cindy continually works to spread the word about the Informix product line, to provide knowledge to Informix users and to influence the future and direction of Informix products.
As a board member since 2004, Cindy has served as Treasurer, Local User Group Advocate and lead the Conference Planning Committee. In March 2019, she was elected President of the IIUG.
Cindy is an IBM Champion since 2010, and in 2019 was awarded the status of Lifetime IBM Champion.
---
Stuart Litel is an IT professional with eighteen years experience working with Informix products. His early days with Informix products included beta testing Informix 4GL and Informix SQL versions 1 as well as the first versions of Informix Rapid Development System and Turbo (now known as On-Line). He is one of the country's longest time users and developers of Informix products, and considered an authority and vast resource of Informix database knowledge.
Stuart is also the founder of the New England Informix User Group and remains a very active participant as the group's leader today. Some noteworthy activities within the Informix user community include his technical contributions to various books published on Informix products as well as to the Informix Certification Exams administered by Informix Corporation.
Stuart's professional work experience includes positions as Analyst, Developer, Data Base Administrator, and Project Manager. His knowledge spans the Informix product line and includes the various database engines as well as development tools. He has been a freelance Informix Consultant for more than ten years, providing his expertise to large-scale OLTP, web based and data warehouse systems requiring optimal speed, performance, and precision.
IIUG Insider Profile – 26 November 2002
---
Vicente has been working with Informix since 1988 when he started developing solutions with Informix 4GL.
He is a recognized Informix consultant and specialist in Spain and Latin-America. Currently, he is the president of the Spanish Informix User Group where he provides Informix knowledge in their blogs.
He's a fan of Informix Technology and has a deep experience on IWA, Grid and replication technologies. He has developed a native IWA OLAP engine based on XML/A datamart definition, as well as a Java Framework for Informix Cloud applications. He has also been appointed as the architect of a Framework for developing Android mobile applications interacting with Informix servers.
His current job position, as Software Engineer, Informix Consultant and Project Manager, allows him to have precious knowledge on how Informix brings value to Project managers, technicians and most important, customers.
---
Ognjen Orel has been working with Informix technologies since 1998. He worked as a developer using Informix, as an Informix DBA and a Project Manager on nation-wide information systems running on Informix. Designing and leading the development of national systems has taught him long-term strategic thinking and planning, quite often while negotiating the needs of various stakeholders.
Ognjen holds a PhD in computer science. Main fields of his research interests are system security, fraud detection, graph algorithms and data modeling. Ognjen holds several IBM Informix certifications and he is 7 times IBM Champion.
He is a strong believer in community, so he co-founded Adria IUG in 2009, where he serves as a board member. Also, he maintains his Informix blog and has written and open-sourced several Informix-related tools and scripts. In terms of sharing the knowledge and insights, he regularly speaks at various Informix events, mostly about new and different ways of using Informix.
---
Eric (aka .Mr benchmark.) uses Informix products since 1986. After developing healthcare solutions based on Informix Online and 4GL, he joined the French then Portuguese technical teams of Informix Software. He has been a technical support, trainer and founding member
of the Paris and Lisbon consultancy teams, handling premium and strategic Informix accounts for about 11 years.
After a few years spent other technologies including software testing , he decided to come back to the Informix Universe in 2010 creating his own consultancy company. His daily life involves technical issues management and resolution, application and DBMS architecture
and optimization, DBA's and developers training, technical knowledge transfer and customer advocacy.
Since he co-authored the "Informix 4GL advanced programming" Informix training manual and co-developed the first Informix certification exams in the Paris office (1992), he still is a heavy writer about the Informix world, running different blogs, and also actively
participating in technical forums. He is an IBM Champion since 2013.