Informix Tech Talks by the IIUG
Next Informix Tech Talks and Webcasts by the IIUG
---
Introduction to Informix Enterprise Replication by Paul Watson, Oninit LLC on September 2, 2021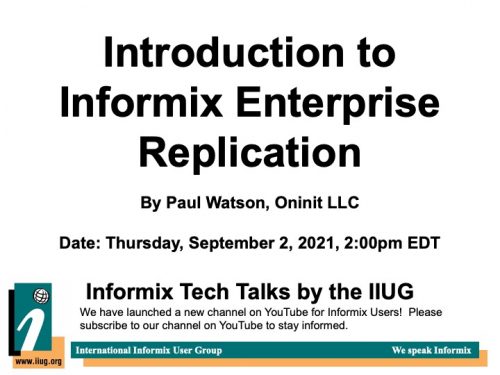 Date: Thursday, September 2, 2021 2:00pm EDT
Description: Everything you need to know to get started with Informix Enterprise Replication.
Bio: Paul Watson, Oninit LLC
Paul Watson has been using Informix for over 30 years, founding Oninit in 1999 and moving to the US in 2006 to establish Oninit LLC. Pre-plague Paul traveled the world on various Informix projects, specializing in ER and TimeSeries implementations.
Please register here for this Informix Tech Talk!
---
Informix Tech Talks: History of the Informix User Groups – Part 3 – by Carlton Doe, Fred Hubbard, Walt Hultgren, Lester Knutsen, and Mike Reetz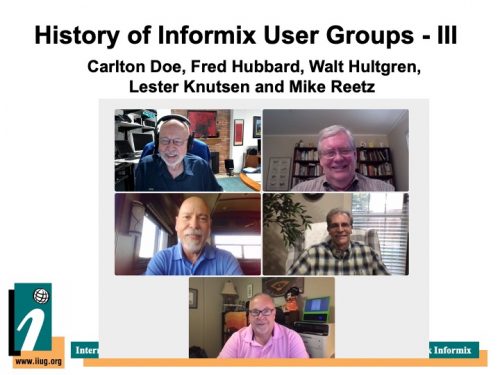 Description: More stores from the past, including the role the Informix users played in the Informix port to Linux, adding technical content and the "Ask The Experts" sessions to the Informix Worldwide Conferences and the growth of the International Informix Users Group.
This video is the third in the series on the History of Informix Users and will be available on YouTube on August 15th, 2021, at: https://www.youtube.com/c/InformixTechTalksbytheIIUG
Part 1 and 2 are available at: https://www.iiug.org/en/2021/06/24/informix-tech-talks-history-of-the-informix-user-groups/