Highlights: 2020 Elections for the IIUG Board of Directors
Welcome to the International Informix Users Group (IIUG) Insider! Designed for IIUG members and Informix user group leaders, this publication contains timely and relevant information for the IBM Informix community.
Contents:
2.1 IIUG Board of Directors 2020 Elections – Accepting Nominations
4) IIUG Survey 2020 – IIUG Survey Results: What does Informix need?
5.1 IBM Informix – Containers and Modernization Webinar
5.2 IBM Informix – From GSKit to OpenSSL Webinar – REPLAY
6.1 IBM has Opened Nominations for 2021 IBM Champions
6.2 Successful Upgrade Migration to Private Cloud Case Study
9.4 Forums, Groups, Videos, and Magazines
1) Editorial
Informix is still the best OLTP engine. IBM and HCL are still committed to the product.
But no one is talking about it? The IIUG Board is doing its best. We have approached all relevant IBM executives. But there are no success stories, no videos, no blogs, nothing.
We will keep trying. You should too. You are IBM customers. They owe you.
Gary Ben-Israel
IIUG Insider Editor
IIUG Board of Directors
2) Highlights
2.1 IIUG Board of Directors 2020 Elections – Accepting Nominations
The IIUG is accepting nominations for the 2020 Board of Directors elections. Hopefully, you saw the announcement on the IIUG website or in the September IIUG Insider or in the email sent October 17th.
While the IIUG Board is a voluntary entity, it would be advisable for you to understand what is expected of you if you are elected.
The IIUG Board meets three times a year; all meetings are mandatory. Two meetings are held over a weekend. The third meeting is held during the Annual IIUG Conference which is a required Board event. In the past, meetings were held in person and required travel. However, with the COVID restrictions, this year's meetings have been virtual and the IIUG Conference was canceled. Once restrictions are lifted, we may return to in person meetings. Travel, hotel and dining expenses are covered for all in person meetings and IIUG Conference fee is waived for Board members.
Your term would begin on January 1, 2021 and continues through December 31, 2022.
The IIUG Board holds a monthly call. Because we are an international group residing in different time zones the call is set to 1 PM US Eastern. This call is mandatory and usually lasts about one hour. Occasionally other, usually optional, calls may be scheduled as needed
In order to expedite communication, board members are required to reply within a week to e-mail messages addressed directly to them or to the Board email group address.
All board discussions are to be kept in confidence unless the Board decides otherwise, including e-mails.
Serving on the IIUG Board requires more than just a monthly call and three board meetings. Board members are required to invest a considerable amount of time carrying out various board tasks.
Work for the IIUG Board takes priority over your regular work and private life. Make sure this is known and supported by your employer and family.
You can learn more about IIUG Board duties by reading the IIUG Board guidelines. Read it carefully before you submit your nomination.
If you have never served on the IIUG Board, you will be asked to complete the nominee questionnaire to provide information about why you would make a good candidate.
Finally, you should take the time review the IIUG Bylaws.
If you are interested in joining the IIUG Board of Directors submit the required information to the Election Commissioner (mailto:john@iiug.org) no later than midnight EST Monday November 19, 2020.
John Fahey
Election Commissioner
3) IIUG President's Letter
Greetings!
Wow, 2020 has been quite a year! I think many of us are happy that we are now in the home stretch with only two more months to go! Of course, there is no guarantee that 2021 will be any better. Let's be hopeful.
Informix has been on my mind a lot lately. I miss all the opportunities there were to meet with Informix users, developers, and DBA's for us to share our passion for Informix. I also miss hearing and seeing information about Informix in the news.
We have shared our IIUG 2020 survey results with IBM, including your comments, ideas, and concerns. Will we see action on these items? I do hope so, but that question remains to be answered. IBM has disappointed the IIUG and Informix community many times in the past.
It is no secret IBM does not give Informix the attention it deserves. The IIUG Board of Directors met with IBM executives several times in 2020 to discuss Informix and the roadmap. Sadly, there are many times we were ignored and only a few times when IBM seemed interested in what we have to offer.
I am reaching out to you for your help. If you wish to reach out to IBM on your own, please contact me at: president@iiug.org and I will put you in touch with the appropriate IBM executive.
We are in this together!
Keep Healthy and Safe!
Cindy
Cindy Lichtenauer
President- International Informix Users Group (IIUG)
IIUG Conference Planning Committee
email -president@iiug.org
4) IIUG Survey 2020 – IIUG Survey Results: What does Informix need?
Continuing with our news related to the IIUG Survey, we're addressing one of the most important questions we had: what does Informix need to better meet your expectations? It was a free-text answer, and you really wrote everything. Here are some words that stand out from the answers:

In order to make more sense from these answers, we went through all of them and tagged them. Some answers were more elaborate, so they may have gotten more than one tag.
Here are the tags we used. Some of you asked for roadmap in several different ways, so all of those are tagged "roadmap". Some put something like RFE there, so those are tagged "rfe". A lot of you asked for a GUI tool for administration and SQL, obviously having seen some of the competitor's tools (and HQ just isn't that SQL tool). There were plenty of those, so all are tagged "gui". Some of you were very specific in your answers, those are the most helpful; we tagged those "specific_answer".
Answers regarding the price of Informix were tagged "price". Some of you asked for better "support", others complained about the lack of good "documentation", especially PDF docs. Some of you asked for some sort of "education" (training, or for Informix to be put back in universities), and some respondents even said Informix is good as is (tagged "all_good"). However, there is a single thing that was mentioned almost every third response: marketing = promotion = Informix to be known, which we marked as "visibility". The distribution of these tags is shown in the graph: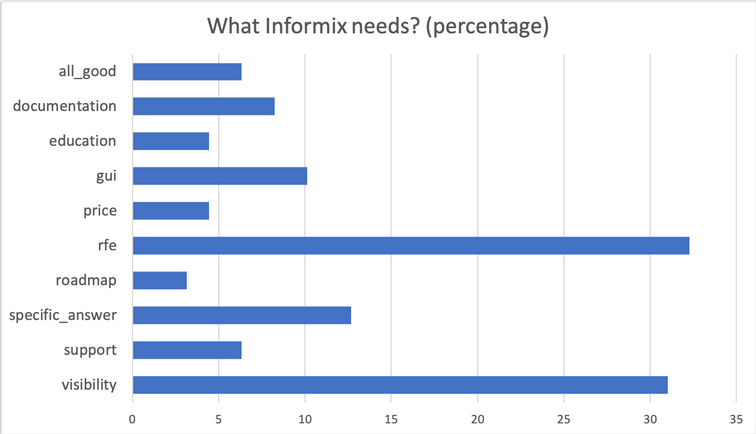 Lastly, we want to let you know that this summary and each and every single answer you gave to this question was
given to IBM.
Ognjen Orel
IIUG Board of Directors
5) Informix Webinars
5.1 IBM Informix – Containers and Modernization Webinar
November 10 @ 10:00 am – 11:00 am
Link: https://www.iiug.org/event/ibm-informix-containers-and-modernization-webinar/
Containerization of software provides several benefits in ease of deployment, security, automation, portability and other areas. This webinar will provide an introduction to IBM Informix containers including the newly released certified container running on top of the IBM Cloud Pak for Data platform.
Running Informix with the Cloud Pak for Data provides easy provisioning and tight integration with other services running on the same platform. Combining the many decades proven strengths and resiliency of Informix database with the Red Hat OpenShift container platform will provide our valued clients many opportunities to –
modernize existing applications,
add AI/ML services,
integrate with other data sources,
reduce operational costs and
more importantly, create brand new business models with your data platform
Speaker: HCL Informix Engineering
5.2 IBM Informix – From GSKit to OpenSSL Webinar – REPLAY
This webinar discussed the deployment and security advantages of using OpenSSL in the Client, and how to convert an existing key store so the clients and server can utilize them.
Replay Link: https://community.ibm.com/community/user/hybriddatamanagement/viewdocument/ibm-informix-v1410xc4-chat-with?CommunityKey=cf5a1f39-c21f-4bc4-9ec2-7ca108f0a365&tab=librarydocuments&LibraryFolderKey=414213ac-4387-4fbc-8562-f4081d4aafc8&DefaultView=folder
6) IBM Corner
6.1 IBM has Opened Nominations for 2021 IBM Champions
IBM Champions are a group of 600+ individuals from around the world who support IBM products and are recognized by IBM for the contributions and expertise to the IBM community.
These Champions support IBM providing feedback by: participation in user groups, writing blogs or articles, participation in forums, speaking at conferences or webinars, or contributing code.
New nominations will be accepted through 16 November 2020 with 2021 Champions announced in December 2020.
Nominate someone or yourself here: https://www.ibm.com/community/ibm-champion-form/
Please use Firefox to complete this form.
If you have questions about the IBM Champions program or the nomination form, please contact the IBM Champions program director.
Stuart Litel
6.2 Successful Upgrade Migration to Private Cloud Case Study
Who: Approximately 30-year Informix customer who has been running without issues and kept up with upgrades until version 11.50.
Why: In late 2018, they ran into problems with tables having a large number of extents. They had outgrown their footprint size and were very low on useable storage. It was time to show their applications and database some love and care for an environment that has been unattended for years.
How: They reached out to IBM and HCL services. There were numerous discussions on how to get this environment upgraded. They were also in the midst of hardware refresh combined with a shift towards private virtual cloud adoption for most of their environments.
They were running on HP Itanium and the new target was going to be on RedHat Linux on Intel hardware under a virtualized environment. After HCL Services analysis and recommendations, they provisioned the new hardware and storage taking into account future growth needs. We spent some time laying out the new infrastructure keeping best practices in mind and allowing for future growth. We set up their infrastructure with IBM Informix 12.10.FC12W1 and configured automatic chunk expansion and allocated storage from a storage pool so that the instances were self-managing from a storage perspective. The customer does not have a DBA on site. We had to keep this in mind and automate as much as possible.
The first step was to migrate their production databases over to the new infrastructure. The database sizes were not large, and we were able to accomplish the task using dbexport and dbimport. We turned over this new infrastructure to the application team and asked them to perform validation of their databases on their new infrastructure. Since the applications run in the same environment as the database server, we undertook the task of moving their applications from HP-Itanium to RedHat Linux which include recompiling all their code, most of which was written in 4GL. We accomplished the database migration using dbexport and dbimport after gaining approval for the cutover.
A high-risk component in their set up was the use of Wingz! This was concerning initially but it turned out that all of the components were working without any issues.
Results: The Product Sponsor was thrilled with the solution and services provided, so much so they shared they are no longer suffering from insomnia and have a better work-life balance, now that the infrastructure is stabilized.
Additional Value: We provided an HDR set up of their environment so that they have a DR solution which they never had before.
Now we look forward to upgrading this customer to 14.10!
Ram Sivaguru
Senior Solutions Consultant, HCL
7) RFE Corner
IBM has created a new RFE – Request For Enhancements website.
https://ibm-data-and-ai.ideas.aha.io/?project=INFX
Please visit this site to vote for your favorite enhancements and place new requests.
As you can see, it is a new RFE site. It is friendly and has a nice look and feel.
Recent
Better checkpoint flush statistics
Votes: 2
Created October 28, 2020
Status: Needs review
Allow setting of environment variable (e.g. PSORT_DBTEMP) in AUS.
Votes: 1
Created October 12, 2020
Status: Needs review
use raw table to bulk load/huge files in Informix cluster
Votes: 1
Created October 9, 2020
Status: Needs review
Show mapped paths in ontape restore
Votes: 1
Created October 9, 2020
Status: Needs review
Popular (Over 50 votes)
Backup from RSS or HDR Secondaries using ontape, onunload, onbar, dbexport
In HDR environments, being able to backup or export databases from and HDR, HDR read-only, or an RSS secondary server is critical. Programs like ontape, onunload, dbexport, and onbar generate locks on tables during backups and data-exports. This creates problems while applications and users using Informix try to use the system during backups in 24 x 7 x 365 production environments. Being able to backup or export data on secondary systems is critical for compliance and backup integrity.
Votes: 104
Created: December 24, 2018
Status: Future consideration
Obtain the query plan of a running query
Many times a DBA is called to check upon a slow process. Most of the times those processes are running a slow query.
Sometimes it's hard to know if the query is using the best query plan or not. A DBA can reproduce the query, but it it was prepared without values or if the statistics were changed after it started there is no guarantee that the query plan seen by the DBA is the same as the running query.
We have "onstat -g pqs" which sometimes can give us a clue, but it's mostly cryptic and undocumented. If a user has X-Windows he can try xtree, but it's a bit strange for todays standards.
We also have SQLTRACE, but if it was not set when the query was launched it will not capture the info (and besides, due to the circular nature of the buffer it may not be there at the time we need it).
A simple pseudo-table in sysmaster could probably implement this with ease.
It could also be extended to support the "last" query plan making it easy to get the query plan in any tool
Votes: 87
Created: December 24, 2018
Status: Future consideration
Informix should be able to change owner on tables and any other objects
If user=informix creates all database and all tables, then programmer creates table but user=informix cannot change it. Only drop it.
Votes: 75
Created: December 24, 2018
Status: Future consideration
Backup Individual database, not entire instance
Need a mechanism, similar to ontape, to backup a live database (as opposed to entire instance), without locking it.
Votes: 72
Created: December 24, 2018
Status: Future consideration
Gary Ben-Israel
8) IBM Informix Forum Corner
Join and visit the IBM Informix community forum at http://www.iiug.org/community
Recent posts
Shared memory segments are not removed with the onmode -ky command
Control of CLIENT_LOCALE and DB_LOCALE at connection (doc issue?)
IDS 14.10 – RSS with Windows Server
Gary Ben-Israel
9) Informix Resources
IIUG website
www.iiug.org
IBM Informix community
http://www.iiug.org/community
9.1 Informix Blogs and Wikis
9.2 Technical articles
https://www.oninitgroup.com/technical-articles/
https://www.oninitgroup.com/faq-items/cloud-backups-with-informix-14-10/
9.3 Social Media
Linkedin: https://www.linkedin.com/groups/25049
Twitter : https://twitter.com/iiug
Facebook : https://www.facebook.com/IIUG.Informix
9.4 Forums, Groups, Videos, and Magazines
Closing and Credits
The International Informix Users Group (IIUG) is an organization designed to enhance communications between its worldwide user community and IBM. The IIUG's membership database now exceeds 25,000 entries and enjoys the support and commitment of IBM's Information Management division. Key programs include local user groups and special interest groups, which we promote and assist from launch through growth.
Sources: IIUG Board of Directors
IBM Corp.
Editor: Gary Ben-Israel
Assistant Editor: Rhonda Hackenburg