Highlights: Informix was named best IOT database by Cisco
Welcome to the International Informix Users Group (IIUG) Insider! Designed for IIUG members and Informix user group leaders, this publication contains timely and relevant information for the IBM Informix community.
Contents:
Editorial
Jerry Keesee retired. I first met Jerry 12 years ago when he flew from Lenexa to Toronto to meet the IIUG Board of Directors. We have been good friends ever since. But, more important, Jerry has always been a big supporter of the IIUG. The IIUG conference, one of our biggest achievements,owes him a lot.Under Jerry's leadership Informix has managed to stay the best relational database in the world.
So, thank you Jerry for everything you did for Informix and the IIUG. We wish you well in all your future endeavors.
Jerry, a word of advice. Buy a Raspberry PI, if you haven't already, install Informix and join us as an Informix user.
Highlights
Informix was named best IoT database by Cisco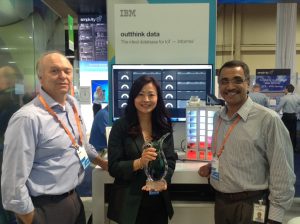 During Cisco Live – Cisco's big yearly event, Informix was named "Best IoT Database" by Cisco.
In the picture IBM General Manager, Inhi Cho Suh with the trophy along with Shawn Moe (left) and Pradeep Muthalpuredathe (right).
IOT is not only one of the fastest growing industries it is a strategic direction for IBM Informix. Playing a major role as an IOT database certainly adds strength to its position in IBM.
We all know the power of Informix. I believe that in the near future it will be part of many smart homes around the world.
Conference corner
The Debate has begun for IIUG 2017
Debates are continuing with the IIUG Board and the potential candidates allowing the Board to narrow the field to a few potential nominees. Recent polls indicate we have one candidate who is well in the lead for being offered the nomination to host IIUG 2017.
The Debates center on: locations that are convenient for travelers, offer affordable room rates, can provide the needed accommodations to host IIUG 2017, can be available at the end of April or beginning of May, and can work within the IIUG budget.
With the debates nearly over, this year's leading candidate will also host the winner of November's USA Presidential election.
The Board should have the winner of IIUG 2017 site selected in time for the next Insider.
Works for me
In this section I will write about things that help me in my day to day work.
Most DBAs probably have their own ways to perform these tasks which may be different than the way I do them. So, if you find an error or can think of a better way, please let meknow. If not feel, free to use these tips as is or modify them to fit your needs.
Today's topic is a stored procedure we use to calculate correlation between two columns.
Unfortunately, there is no function that calculates correlation. The only way I found to do it and allow calculating correlation between any two result sets was to pass the select statement to the stored procedure.
Not elegant but it works. It can be any select statement as long as it returns two float values. It returns one value so it can be used in a view along with other aggregates.
create function corr_sp(sel_str lvarchar(1000)) returning decimal(6,2)
  define corr1, corr2, sxy, sx, sy float;
  define sx2, sy2, ax, ay, r_sc float;
  define cor_xy decimal(6,2);
  define n int;
  
  let n = 0;
  let sxy = 0;
  let sx = 0;
  let sy = 0;
  let sx2 = 0;
  let sy2 = 0;
  
  prepare prep_st from sel_str;
  declare corr_curs cursor for prep_st;
  open corr_curs;
  loop
    fetch corr_curs into  corr1, corr2;
    exit when SQLCODE = 100;
    let n = n + 1;
    let sxy = sxy + (corr1 * corr2);
    let sx = sx + corr1;
    let sy = sy + corr2;
    let sx2 = sx2 + (corr1 * corr1);
    let sy2 = sy2 + (corr2 * corr2);
  end loop;
  close corr_curs;
  free corr_curs;
  
  if n = 0 then
    return -101.0;
  end if
  
  if ((sx2 / n) - (sx * sx)) = 0 or ((sy2 / n) - (sy * sy)) = 0 then
    return -102.0;
  end if
  let ax = sx / n;
  let ay = sy / n;
  let cor_xy = ((sxy / n) - (ax * ay)) / sqrt(((sx2 / n) - (ax * ax)) * ((sy2 / n) - (ay * ay)));

  return cor_xy;
end function;
Gary Ben-Israel
Informix news
IBM Informix and the Internet of Things White Paper by Bloor
Author: Philip Howard
Publish date: July 2016
"Informix is a robust offering that combines high performance and functionality with minimal administrative requirements."
http://www-01.ibm.com/common/ssi/cgi-bin/ssialias?htmlfid=IML14542USEN
RFE corner
Just in case you are not aware, some time ago IBM created a public website to collect the requests for new features directly from users. The RFE (Requests For Enhancements) website is included in developerWorks. You can access it here.
Once you logged in with your usual IBM ID, choose "Information Management" in the Brand dropdown box and "Informix Servers" or "Client Products" in the Products dropdown box.
The interesting thing is that any request, including your request if you place one, is submitted to be voted on. This means the RFEs that receive more votes have a greater chance of being considered by the architecture and development teams for further consideration. In other words, this IS the opportunity to provide enhancement ideas even if you are not the biggest IBM customer on planet earth.
Some RFEs will be of great interest, others will not seem useful to you. This is why your opinion is important. Do not hesitate to vote and place comments!
The idea of the RFE corner is to provide a digest on new Informix RFEs and make those RFEs more visible and accessible for the community, so that you can vote for them in a faster and easier way. By participating actively in this website, IBM will have solid and useful elements from the customer base to introduce new functionality to Informix product.
Also in the area of IBM website, a new functionality has been released: MyNotifications. You will want to register this webpage in order to receive the notifications of your choice: new product defects, new patch release, new versions etc…, on the frequency of your choice (daily, weekly). I have registered and will definitely keep registered, due to the value of the information delivered.
Check at this place.
New RFEs for July 2016
There was some activity for new RFEs in July. The top 14 have been significantly moving and demand for new functionality or enhancement is consistent to be heard be IBM product Marketing and R&D J
Only the owner of a table can modify a table schema. If owner goes away, user Informix has to drop the table and create a new one with new schema. Easy to prevent in advance, but difficult to solve if user has gone.
this seems duplicate to ALTER owner of database objects after creation ( see below)
Request to create a statement that changes the owner of a table, index etc..
SSL Certificates management it very constraining when a certificate expires in production. It requires heavy workload + rebounce of IFMX servers.
Request to improve the certificates management/deployment on Informix servers, to avoid heavy workload and server rebounce.
Our system is using backend storage systems where not all disks/LUNs are created with equal speed/bandwidth/latency and other performance factors. Informix storage pool concept does not cater for such fine granularity.
Request to improve the usability of Automatic Space Management for multi-tiered storage systems by considering the existence of LUNs with different performance level, and gain finer control on storage pools performance specs.
Currently OleDB clients can't connect to PAM enabled ports.
We recently allowed PAM connections for DRDA connections if in password mode.
Request to allow PAM in OleDB clients for password mode.
TOP 14 RFE's
You can access each RFE by clicking on the above links. At the bottom of each RFE page you will find a hyperlink to vote for it. You will see the Request stats, including number of votes for this request, on the right side of the request page. The more votes, the greater the chance an enhancement will be addressed by the Development Team, taking into consideration the general interest.
Take some time to examine the full list and vote for the enhancements you would like to see implemented.
Eric Vercelletto
Informix corner
Welcome to the 2016 Informix Roadshow
Informix 12.1 is simply powerful.
Coming to a Location Near You
What is the Informix Roadshow?
The 2016 Informix Roadshow is a two-day, deep-dive technical event that gives you hands-on experience with the latest IBM® Informix® release features, and Informix Warehousing technology. This roadshow is designed to help you gain fresh, innovative ideas for optimizing your business performance and creative competitive advantage – and it's absolutely free to attend these events.
The Roadshow topics include:
Latest features of IDS 12
Replication Technologies
Compression
Storage Manager
Time Series – Smart Metering
Informix Warehouse Accelerator
Embed and Autonomics
NoSql
Internet of Things
Roadmap
The current Informix Roadshow presentations and agenda, both of which are subject to change, and the last four years Informix Roadshow presentations are available here.
The current Informix Roadshow Agenda is here subject to change.
If you would like to try Informix for free, links to various software downloads are here:
Stay tuned for upcoming events:
| | |
| --- | --- |
| Date | Location |
| September 12-13 | Zagreb, Croatia |
| September 15-16 | Zagreb, Croatia |
| September 29-30 | Buenos Aires, Argentina |
| October 3-4 | Sao Paulo, Brazil |
| October 6-7 | Rio de Janeiro, Brazil |
| October 11-12 | Mexico City, Mexico |
Calendar of events
September – 2016
| | | | |
| --- | --- | --- | --- |
| Date | Event | Location | Contact |
| 12-13 | 2016 Informix Roadshow | Zagreb, Croatia | |
| 15-16 | 2016 Informix Roadshow | Zagreb, Croatia | |
| 29-30 | 2016 Informix Roadshow | Buenos Aires, Argentina | |
October – 2016
| | | | |
| --- | --- | --- | --- |
| Date | Event | Location | Contact |
| 3-4 | 2016 Informix Roadshow | Sao Paulo, Brazil | |
| 6-7 | 2016 Informix Roadshow | Rio de Janeiro, Brazil | |
| 11-12 | 2016 Informix Roadshow | Mexico City, Mexico | |
Informix resources
IBM Informix home page
www.informix.com or directly at: http://www-01.ibm.com/software/data/informix/
Informix Blogs and Wikis
Blogs and Wikis that have been updated during the last month
MoreBlogs and Wikis
Social media
Linkedin : https://www.linkedin.com/groups/25049
Twitter : https://twitter.com/IBM_Informix
Facebook : https://www.facebook.com/IBM.Informix
YouTube : https://ibm.biz/BdH2nb
Informix IoT Channel : https://ibm.biz/BdH2nm
Forums, Groups, Videos, and Magazines
The IIUG forums at /forums/technical.php
Informix Marketing channel on YouTube http://www.youtube.com/user/informixmarketing?feature=results_main
IBM DATABASE MAGAZINE at http://www.ibmdatabasemag.com
Credentials, the IBM Certification Newsletter at http://www-03.ibm.com/certify/email/201307credentials.shtml
The Informix Zone at http://www.informix-zone.com
There is now an Informix group on LinkedIn. The group is called "Informix Supporter", so anyone loving Informix can join, from current IBM employees, former Informix employees, to users. It will also be a good occasion to get in touch with others or long-time-no-seen friends. If you fancy showing the Informix logo on your profile, join. To join, simply go to: http://www.linkedin.com/e/gis/25049/5E4B2048E558
Useful Links
In response to your input, we have created a new page on IIUG web site containing all the links we use to include. Please find it at /quicklinks.html
Closing and Credits
The International Informix Users Group (IIUG) is an organization designed to enhance communications between its worldwide user community and IBM. The IIUG's membership database now exceeds 25,000 entries and enjoys the support and commitment of IBM's Information Management division. Key programs include local user groups and special interest groups, which we promote and assist from launch through growth.
Sources: IIUG Board of Directors
IBM Corp.
Editor: Gary Ben-Israel
For comments, please send an email to gary@iiug.org